14:17, 26 February 2009
402 views
Check Point Extends Security Virtualization Leadership with New Line of Appliances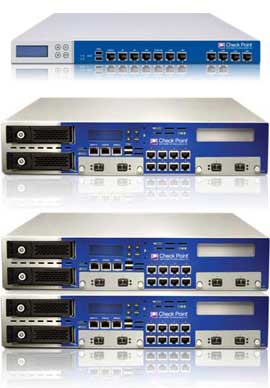 Check Point Software Technologies announced a new line of Check Point appliances, VSX-1, providing businesses dedicated devices for multi-layer, multi-domain virtualized security. VSX-1 allows enterprises, data centers and service providers to consolidate up to 150 security gateways with firewall, IPsec and SSL virtual private network (VPN), intrusion prevention, VoIP security and URL filtering on a single device.
"By deploying VSX-1 appliances and consolidating security gateways, customers not only increase device utilization and conserve power, space and cooling without compromising security, but also increase the scalability and efficiency of their security infrastructure," said Dr. Dorit Dor, vice president of products at Check Point. "Through VSX-1 service providers can optimize their security infrastructure by running and managing from one device the security needs of many customers."
Check Point VSX-1 appliance line comes in three models. The VSX-1 3070 allows up to 10 virtual security gateways and features 4.5 Gbps firewall throughput and 1.1 Gbps VPN throughput. The VSX-1 9070 supports up to 150 security gateways and features 13.5 Gbps firewall throughput and 3.5 Gbps VPN throughput. Similarly, the VSX-1 9090 also supports up to 150 firewalls; however, it features 27 Gbps throughput and 7 Gbps VPN throughput. Each virtual gateway within a VSX-1 appliance provides the same industry-leading protection as physical Check Point security gateways and integrates fully into Check Point's central management console.
Check Point VSX-1 features and benefits include:
Fully virtualized network environment with best-in-class firewall, VPN, intrusion prevention and URL filtering technology
Consolidation from 5 to 150 security gateways on a single, dedicated appliance conserves power, space and cooling while increasing scalability
Central management allows virtual gateways to be managed on same platform as physical security gateways
ClusterXL and SecureXL technologies ensure high-performance levels, seamless failover and resilient multi-gigabit throughput
Additional information on VSX-1 can found at: www.checkpoint.com/products/vpn-1_power_vsx/index.html.
Check Point Software Technologies
Tweet