15:10, 30 October 2009
412 views
Mats Odell speaks at inauguration of cash handling machine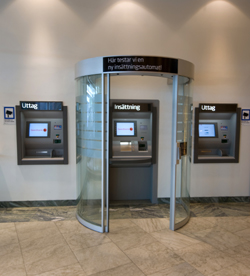 Mats Odell, Minister for Local Government and Financial Markets is speaking at the inauguration of Swedbank's new Q-CashRouter (QCR) the 28th of October 11:00 at the Swedbank office on Hamngatan, Stockholm. The machine is a cash recycling machine designed to reduce cost for cash handling and to increase security. At the ceremony, Kjell Hedman, Executive Deputy President and Head of Swedish Banking at Swedbank, will attend together with Leif Lundblad, CEO of BANQIT and inventor of the QCR.
Cash handling is an increasing problem in today's society – in Sweden the total cost of cash handling is estimated to SEK 11bn annually. A large number of daily transports are required just to refill ATMs, emptying service boxes, collecting and delivering cash from branches and shops and to transport the cash between the country's cash centrals. The main contributor to the annual costs is the actual handling of the cash and the risk of robbery (when counting, storing and loading ATMs) as well as the transports themselves.
The QCR is a new cash recycling machine for efficient handling of cash. It is a cash deposit machine combined with two ATMs for cash withdrawal, which enables the store owner to deposit the daily amount and to receive a confirmation of an immediate credit to the bank account. This happens simultaneously as other customers can make cash withdrawals from the machine.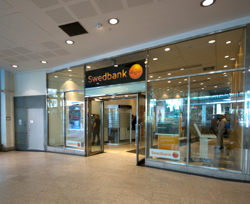 With QCR-machines the volume and cost for cash handling can be reduced with up to 50%, as the cash is recycled locally several times. This does not only lower the risk for robbery of transports but also the risk for robbery at bank branch offices. An additional positive effect of the QCR is that it lowers CO2 emissions due to reduced transports.
Kjell Hedman, Head of Swedish banking at Swedbank says: "We are today proud to open up this new cash recycling machine at our office on Hamngatan. Through this venture we both facilitate and make the days of our customers and employees a little safer, at the same time as we make an effort for the environment."
The QCR-machine has been developed by BANQIT, a Swedish innovative company within the cash handling field. Swedish technique is pioneering within this field and BANQIT has, as the first company in the world, developed a device for detection of coloured notes which have been a part of a robbery. Notes that are suspected, counterfeit or coloured are automatically identified, registered and packaged by the machine. Leif Lundblad, CEO and owner of BANQIT, has in his former company Inter Innovation, invented many modern cash dispensing technologies still used in today's Teller Cash Dispensers and ATMs.
Media is welcome to attend during the initial presentation of the QCR machine and the following inauguration. After that there will be opportunities to interview Mats Odell, Minister for Local Government and Financial Markets, BANQIT's CEO Leif Lundblad and Swedbank's Head of Swedish Banking at Swedbank Kjell Hedman.
Tweet