11:52, 26 March 2009
838 views
Moneris Solutions Selects VeriFone as Payment Solutions Supplier in $10 Million Contract for Wireless, Countertop and Integrated Systems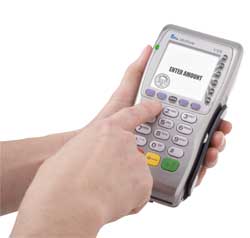 VeriFone Holdings, Inc. announced today it has won a $10 million contract with its selection as a premier payment solutions supplier to Moneris Solutions, Canada's largest processor of debit, credit and gift card payments.
Moneris selected EMV- and PCI-approved wireless, countertop and integrated payment solutions from VeriFone's Vx Solutions family to meet the needs of its merchant customers. Moneris processes more than 3 billion credit and debit card transactions a year, for merchants in virtually every industry segment at more than 350,000 small business and corporate locations across North America.
"VeriFone's Vx Solutions line provides us with options to meet the payment needs of our broad merchant base and their migration to EMV," said Moneris Chief Operating Officer Jeff Guthrie. "Our partnership with VeriFone demonstrates our continued commitment to strengthen our relationship with our merchants, and provide them with superior and innovative technology to meet and exceed their payment processing needs."
"This contract represents a tremendous competitive win over an incumbent supplier and validates VeriFone's proactive efforts to meet the needs of the marketplace with fully secure, flexible payment solutions," said VeriFone Executive Vice President Jeff Dumbrell. "We look forward to working with Moneris to serve the payment needs of its merchant customers."
To meet the latest countertop needs, Moneris chose VeriFone's Vx 810 and Vx 810 DUET systems, both of which can be pre-equipped or field-upgraded with a contactless module. The Vx 810 is deployed as a PIN entry device integrated with electronic cash registers and POS systems, while the Vx 810 DUET provides smaller merchants with a two-in-one device that incorporates a highly ergonomic handover device with a base unit including printer and modem for a fully-functional, top-of-the-line countertop payment solution.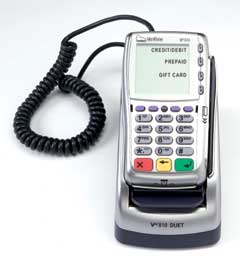 Moneris also selected the GPRS version of the Vx 670, a sleek and secure handheld payment device designed specifically for wireless, customer-facing payments ranging from restaurant pay-at-the-table environments, to home and office delivery needs, as well as a replacement for dial-up or Ethernet connected systems.
VeriFone devices and systems process a broad spectrum of payment types including signature and PIN-based debit cards, credit cards, EMV smart cards, contactless, value-added applications, and signature capture. VeriFone solutions incorporate existing and emerging technologies, comply with the latest global security standards, and take advantage of the latest connectivity options from GPRS, CDMA, and Wi-Fi to Ethernet and Bluetooth. VeriFone in late 2008 became the first payment systems supplier to adopt a comprehensive program to ensure compliance with the PCI Security Standards Council's recently enacted Payment Application Data Security Standard (PA-DSS) aimed at ensuring protection of cardholder information.
In Russia and CIS countries an official partner-distributor of POS-terminal equipment of VeriFone is INPAS Company, leader in payment integration.
Tweet