00:01, 3 December 2008
429 views
The CARTES & IDentification trade show confirms its dynamism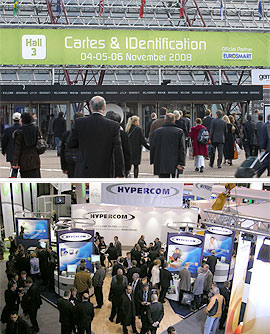 With nearly 20,000 visitors, CARTES & IDentification has affirmed its position as a leading global event for smart technologies and digital security
The status of the information partner and "PRESS KIOSK PARTNER" was granted to PLUS Journal.
On its 23rd year, CARTES & IDentification stayed on course despite the global financial crisis. From the Congress to the SESAMES Awards and the high numbers of visitors at the stands, it has demonstrated great dynamism. With record attendance of 30,188 visits over the three days*, the 2008 event was a good vintage. The trade show was marked by numerous impressive innovations, the high quality of solutions presented by the exhibitors and an enthusiastic and optimistic business environment.
Next year's exhibition is already being planned: from November 17th to 19th, 2009.
The international event for smart technologies and digital security

The trade show confirmed its international scope with 481 exhibitors, 78% of whom were from outside France; 19,752 visitors, 63% of whom were from abroad; and 132 countries represented. The United States was the guest of honor for this year, which meant heightened attendance by American exhibitors (the third highest country represented for the first time), as well as many specific conferences.

The 21 conferences on offer over the three days welcomed 1,500 delegates. Amongst these, 85% were from outside France and 15% from France. Numerous hot topics were tackled (contactless, m-payment, biometrics, convergence, securing of transactions, etc.). The high point of the Congress was the opening "World Card Summit" conference, during which industry leaders presented the key market trends and their strategic visions. Eurosmart gets this chance to release in sneak preview global card market figures for 2008 and forecasts for 2009.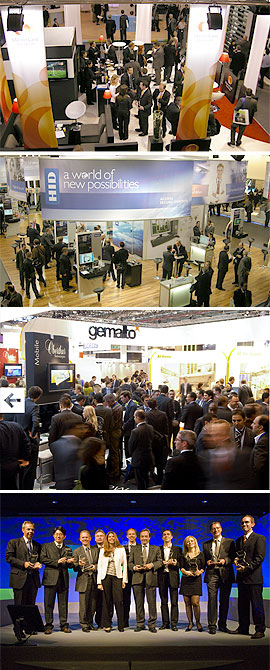 Contactless everywhere
Again this year, contactless technologies were the hot topic. The NFC Zone, organized in partnership with the NFC Forum, placed great emphasis on wireless technologies: demonstrations of applications in everyday life, educational presentations of new prospective and prototype products using contactless. Many stands from all around the world also revealed their contactless innovations and applications (m-payment, transport, access control, machine to machine, etc.).
Smart objects become part of everyday life
Contactless technologies developed by the smartcard industry have freed up traditional payment, ticketing and access control applications. So we can say that although the format is changing, the function remains the same. With contactless came a family of communicating and secure objects whose links with the traditional smart card remain.
For instance, watches, USB keys, bracelets, key rings, and many other smart objects were demonstrated at the trade show, in particular at the "Smart Devices" exposition.

Identification confirms its vitality
The IDentification trade show, dedicated to identification and authentication technologies, took place for the second year running alongside CARTES and was attended by 76 companies. Over the three days, this was the right place where visitors could discover the companies offering emerging technologies in the fields of biometrics, securing of documents and transactions, authentication, physical and logical access control, as well as e-government procedures.
The 2008 SESAMES Awards
Over the past 13 years these coveted awards have become the undisputed reference for innovation and smart card and identification applications.
During a superb ceremony held at the Pavillon Gabriel in Paris, the 2008 winners were revealed:
For the HARDWARE SESAME: Infineon Technologies with SLE 78 Family with Integrity Guard
For the SOFTWARE SESAME: Gemalto with Smart Card Web Mashups
For the IDENTIFICATION APPLICATION SESAME: Motorola with Motorola Bio-Enrol
For the IT SECURITY APPLICATION SESAME: GO-Trust with GO-Trust SD Solution
For the TRANSPORTATION APPLICATION SESAME: Giesecke & Devrient with Touch & Travel
For the BANKING/FINANCE/RETAIL APPLICATION SESAME: XIRING with Xi Sign wallet
For the HEALTH APPLICATION SESAME: Oberthur Technologies with WebSTIC.Health
For the MOBILE APPLICATION SESAME: Oberthur Technologies with GIGANTIC WUAOW
For the E-TRANSACTIONS APPLICATION SESAME: Atos Worldline with Fast booking on ATM
For the LOYALTY SESAME: garanti Payment systems with Flexi Card
The next edition of CARTES & IDentification
will be held from November 17 to 19, 2009
at Paris-Nord Villepinte

Russia will be the guest of honor!
For more information on CARTES & IDentification visit:
www.cartes.com
*Attendance equals total number of visitors, conference delegates, speakers, journalists and exhibitors over the three days (figure supplied by OJS, the French official statistics office)
Tweet