23.04.2009 – 25.04.2009
3rd Banking Forum for CIS countries & Eastern Europe
to 23-04-09 on 25-04-09
3rd Banking Forum for CIS countries & Eastern Europe
Organizers of the Event: Congress Management Network international group of companies, Banking Association for Central and Eastern Europe (BACEE), International Banking Council, Financial Banking Council for CIS, Association of Russian Banks, Association of Regional Russian Banks.
Venue: Austria, Vienna, congress-center «Messezentrum Wien»
Website: http://www.bankingforumvienna.com/
Media Partner:



Objectives
The Forum will take place in Vienna on April 23-35, 2009. It will be the first time it will be held together with the 20th BACEE Country and Bank Risk Conference.
The participants of the Forum will discuss relevant issues of international cooperation in the field of financial markets' and banking systems' development. Current situation in the world financial markets, including existing integration mechanisms and ways of incorporating the banks of the CIS and Eastern European countries into the world financial system will also be discussed. Within the framework of ВАСЕЕ conference 27 countries will present their banking systems, including Turkey, the Republic of Macedonia, Montenegro, Bosnia and Herzegovina, Albania, Serbia, Georgia, Slovenia, Croatia, Kyrgyzstan, Mongolia, Uzbekistan, Poland, Hungary, the Baltic states and other countries.
For the first time this year the ceremony of the international banking award "Platinum Key" will be held at the Forum. The award was founded by the heads of the banking organizations of Europe and CIS countries and will be given to an individual who has made a significant contribution to the development of the banking business and proved to be an outstanding anti-crisis manager.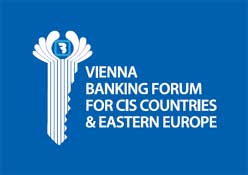 Key Topics
Increasing role of the informational products as an instrument of investment attractiveness under conditions of financial crisis
Presentation of the investment opportunities and projects in CIS countries and Eastern Europe
The State as stabilizer of the financial markets
New configuration of Russian banking system. Structure of capitals, advantages and risks
Strategies, problems and perspectives of promotion of the big banking and financial institutions of Europe onto the markets of Russia, CIS countries and Eastern Europe
Banks and financial institutions of CIS, Central- and Eastern Europe under conditions of instability of financial markets
Who will attend?
Over 300 participants are expected to take part in the event. At present among the registered participants of the Vienna Banking Forum 2009 there are government representatives and heads of national, central, and commercial banks as well as banking associations from Switzerland, Germany, Belgium, Armenia, Kazakhstan, Ukraine, Belorussia, Azerbaijan, Moldova and other countries of CIS, Central and Eastern Europe.
Delegates will hail from a variety of job functions:
Board Members and
Top Executives (CEO, COO)
Organisations in attendance:
Banks and Banking Associations
Governments and representatives from related Associations
Please follow the link for further information: http://www.bankingforumvienna.com/
For accreditation please contact:
Vasiliy Efremov, efremov@propaganda.ru, +7(903) 793 98 75
Tweet