For advertisers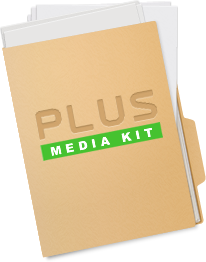 Ask for the terms of advertising in PLUS product line
PLUS Journal, a PLUS-alliance publication (www.PLUS-alliance.com),is the most competent specialized periodical in Russia and other FSU countries.
As one of the leading business publications, PLUS Journal has covered the strategy of key market players since 1994.
Average readers hipper issue –
21,500
pers. Number of readers per single copy (on average) – 4.3 pers.The circulation is 4.000 copies.The publication is distributed via subscription (by the Editorial Board and agencies),and at the domestic and global events the journal participates in (over 120 events annually).
Frequency:
12 issues a year, 90-100 pages each.
PLUS Journal today:
• a monthly publication
• PLUSworld.ruinformationportal
• PLUS-dailynewsletter
• A mobile version of the portal and PLUS Journal application for IOS-based tablets and smartphones
• Anelectronicversion of the journal on PLUSworld.ru
• Video channel
www.youtube.com/user/PLUSforums
• Facebook:
www.facebook.com/PLUSworld.ru
• Twitter:
@PLUSworld_org
The subscriber base of PLUS Journal and visitors of PLUSworld.ru, as well as business relationships we have built for almost 20 years, facilitate the delivery of information directly to top managers such as directors, vice-presidents and deputy chairmen of the credit and financial institutions, manufacturers and technology companies, middle-level managers directly involved in the preparation and approval of long-term solutions onlaunching specific projects in banks and other commercial and government entities.
Oursubscribers are primarily of the mostactive agefrom
25 to 55 years.
Among our permanent readers:
Sberbank of Russia, Uralsib, Alfa-Bank, AK BARS Bank, VTB 24, Russian Standard Bank, Gazprombank, Raiffeisenbank, PSB, Svyaznoy Bank, Citibank, TCS, Beeline, Megafon, MTS, Ingosstrakh, Lukoil, X5 Retail group, Rostelecom, the Ministry of Communications and Mass Media of the Russian Federation, etc.
Advertising policy
• Flexible pricing strategyensures an optimal placement of marketing materials for any client
• Volume discounts
• Reduced cost of advertising in case of simultaneous ad placement in several issues of the journal
• Possibility of placing the marketing materials of an individual format.
The number, scope, content, and other terms of cooperation, including its commercial component, are negotiated with the companies seeking our information support.The companies allocate appropriate budget for the information support for a certain period (e.g., one year), which forms the basis for a dedicated media plan specifying the PLUS information products to be involved and the scope of work.
PLUS Journal offers its marketing opportunities to promote your company's products/services
Ads and other materials placement options:
• Placement of an article
• Front cover
• Insidefrontcover
• Insidebackcover
• Back cover
• An advertising module (one page inside the journal)
• Frontspread
• A spread inside the journal

New placement options:
• Advertisingmoduleswithcontouredcutout, perforation, etc.
• Hardfoldoutinsert
•
'Journal in the Journal'
special projects
• and other
We are sure that our cooperation will be fruitful and mutually beneficial, because we have three essential things for that: experience, expert power, and reputation!
Please contact us! We are ready to offer a variety of creative options of ad placement!
Your company's advertisements won't go unnoticed!
Click here for Media Kit
We construe cooperation as strategic partnership, not a one-time action within the framework of the Journal!
PLUS Journal is a part of PLUS-alliance, which also publishes Retail &Loyalty Journal and organizes PLUS-Forums:
• The 4th International PLUS-Forum
Cards and Payments 2013
, 3-4 June, 2013
• The 5thInternational PLUS-Forum
Cash Circulation + Self-service. Banking and Retail 2013
, to be held on 21-22 October, 2013.
Read more about PLUS-Forums here:
PLUS-Forum.com
Tell us about your marketing goals, and the team of professionals will offer youan optimal interaction model!
Concerning the questions of cooperation and placement of advertising-information materials and interaction with exhibitions / conferences / seminars, please contact:
Konstantin GRIZOV
Vice President, Member of Board | Business Development
Tel./fax: +7 (495) 961 1065 (ext. 1201)
Cell: +7 925 005 4005
Skype ID: konstantin.grizov
E-mail: konstantin@plusworld.ru