CONTACT: improving money transfer service with SWIFT Remit
13.04.2015 17:02:16
1625 views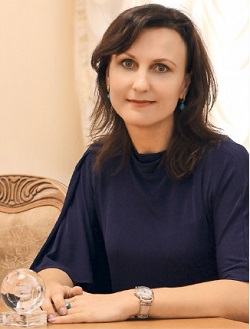 SWIFT Remit allows financial companies to support any delivery method or service type that their clients may require in money transfers
IN 2015, CONTACT became the first payment system in Russia that integrated with SWIFT Remit, a modern person-to-person payments solution that brings the business of money transfers to a whole new level. The first project launched using messaging in SWIFT Remit standards was between CONTACT and ICBC, one of the China's largest banks. It was aimed. to offer clients in Russia an improved service of wiring money to China. Elena Gafarova, CONTACT's Vice President for International Development outside CIS told PLUS magazine about the opportunities SWIFT Remit opens for Contact, its clients and the entire international market of money transfers.
PLUS: How did SWIFT Remit come about? What makes this format different from the traditional SWIFT FIN wires?
E. Gafarova: For a long time It has been obvious to the professional market players that there is a huge amount of transactions that bypass SWIFT: according to the Bank of Russia, in 2014 over 40% of payments between individuals were sent via the money transfer systems. The reason for that is that SWIFT was originally designed as a system for facilitating information exchange between banks and businesses. So at its core it is a B2B solution. And if one of the participants is an individual than they have at least to have a bank account with a bank that is a SWIFT member or be a customer of such a bank. But when people wire money to each other they often do that without opening any bank accounts. It is true, for many years SWIFT has been used as a reliable, convenient and standardized information exchange channel for banks. But products and services were evolving and at some point it became clear that customer information had to be structured at a higher level in order to be further automatically parsed and checked, for example, against the sanction lists. Customers were also becoming more and more financially literate: low commissions, instant delivery, SMS notifications on statuses of money transfer processing, including the date of payment. It was evident that a new format was needed and that has become SWIFT Remit, an integrated solution for retail banks, payment systems and mobile transfer operators. Seven years ago CONTACT initiated the establishment of the SWIFT Workers' Remittances Advisory Group focused on a new service development and was also one of the participants in this working group. The task of the group was to develop a new solution for messaging on remittances and keeping the database of locations from where clients could send money or receive them as well as to improve clearing and settlements between the participants. Another task of SWIFT Remit was to ensure complete transparency of transactions and to meet the latest compliance standards, including the numerous domestic and international anti-money laundering requirements, that were getting more demanding with every passing year. There was also a need for a format that would minimize the amount of false matches with the list of sanctions and allows to l automatize prompt detection of suspicious transactions and further adoption of appropriate measures.
The market itself dictated the need to change the standards of international messages.
For example in SWIFT FIN 103 information about the recipient can be entered in several fields: in the field 59 that consists of 4 lines, in the field 70 that also consists of 4 lines, and the field 72 that consists of 6 lines. At the same time, there are no separate fields to specify such information as country of the recipient, phone number of the recipient, type of document, number of document, date of issue and etc. Every time, during integration even with the use of SWIFT FIN standards we needed to agree with our counterparty lots of additional details.
---
In the new format developed by SWIFT the best experience of many financial companies including CONTACT was taken into account.
---
For example in SWIFT FIN 103 information about the recipient can be entered in several fields: in the field 59 that consists of 4 lines, in the field 70 that also consists of 4 lines, and the field 72 that consists of 6 lines. At the same time, there are no separate fields to specify such information as country of the recipient, phone number of the recipient, type of document, number of document, date of issue and etc. Every time, during integration even with the use of SWIFT FIN standards we needed to agree with our counterparty lots of additional details.
For example, we had to agree in which field and line of this field we will specify this or that information about the recipient or sender and what separators and codes will be used for its parsing. The most difficult task was to invent where to specify the number of the remittance, its status (primarily the status "paid"), date of payment, and adjust all these items for SMS notifications. The new SWIFT Remit format was supposed to repair all these challenges that happened with messaging in SWIFT FIN at that time. The new format developed by SWIFT is based on the best experience of numerous financial companies.
For example, there was no single standard for the number of a remittance. However, there have been and still exist companies whose structure of a remittance number can include not only digits, but also letters (for additional brand promotion or to distinguish internally the ordering agent or the send or delivery country or whatsoever). Nobody really ever cared about customers and how hard it may be for recipients from CIS to communicate to tellers the numbers like XWZ-909018203132701. As a result oftentimes there were cases when tellers failed to find such numbers in the systems. To eliminate this problem SWIFT Remit has introduced a standard for the remittance number: it may be only numeric and contain 16 digits.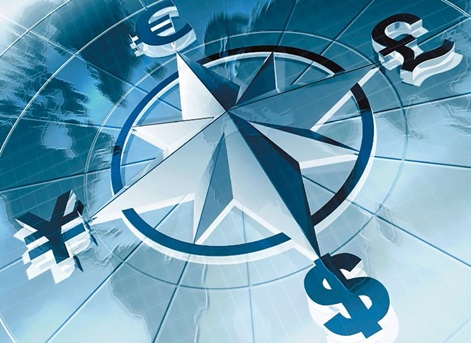 SWIFT Remit ensures total transparency of transactions and their compliance with the latest standards, including the numerous domestic and international anti-money laundering requirements.
The working group also developed a database format that allows SWIFT Remit participants to manage more effectively the information about countries to which remittances can be sent; about a currencies in which remittances can be denominated, about opening hours of the offices, terms and methods of delivery therein. Database update standards were developed as well.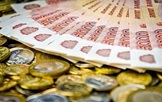 Another benefit of SWIFT Remit is that the header of each message allows to determine how urgent the remittance is on the service level (standard, urgent, immediate). All messages, including payment confirmations, payment orders, annulment confirmations etc. have their own unique identifiers. New remittance statuses have been added: paid and rejected. SWIFTRemit messages also include universal formats for cancellation requests, for attribute change and for investigations on delays.
PLUS: What other benefits does CONTACT believe the new system can offer banks?
E. Gafarova: Banks are active participants in the market of remittances between individuals and SWIFT Remit has given them a standardized solution for offering the service to new customers. SWIFT Remit allows financial companies to support any delivery method or service type that their clients may require in money transfers including both traditional money transfers between unbanked and remittances where the money gets credited to the bank account of an individual or a legal entity or where the recipient can collect the money using an ATM. It is a unique channel for all kinds of international remittances between individuals that guarantees the declared commission and delivery within the defined period of time. Its implementation makes you more efficient and helps you grow your business faster.
---
SWIFT Remit has significantly simplified the process of integrating CONTACT with leading global banks.
---
For banks this means first and foremost less labor investments. When there are certain agreed standards for how messages are to be compiled, what information is to be included in them and what format is to be used, and when there are standard agreements and databases that are used to send and process remittances, all banks need to do is simply follow these standards, which makes integration with various partners much easier and drastically reduces the boarding time.
Currently, when banks support several money transfer systems, individual unique adjustments must be used for each of them and operational staff has to be trained to meet the requirements of each system, its mandatories of payment. . These are serious investments, not just financial, but time and labor as well. By contrast, SWIFT Remit allows you to offer several payment systems through a single window. You get one integrated solution that
PLUS: How fast and smooth has the integration process been with CONTACT was the first payment system of Russia to integrate with SWIFT Remit. What were the strategic goals of that project?
E. Gafarova: First of all, we always strive to give our partners opportunities to improve and grow their remittance business. The standardized structure of SWIFT Remit can allows you to offer a variety of remittance services using a single infrastructure.easily be adapted to new products and services. This has enabled CONTACT to utilize SWIFT Remit alongside ISO 20022 XML to exchange messages with financial organizations in China, the CIS, Europe and the US, which significantly simplified the process of integration with leading global banks.SWIFT Remit is a unique channel for various times of international remittances that guarantees the declared commissions and delivery times
---
SWIFT Remit has significantly simplified the process of integrating CONTACT with leading global banks.
---
In October 2007, we got approval from the SWIFT Board of Directors to launch a pilot remittance project. Several banks were selected to participate in its development. Successful testing of the new formats of information exchange with Standard Bank of South Africa, Standard Chartered Bank, Ivobank (now Virgin Money UK), and Industrial and Commercial Bank of China allowed CONTACT to become the first payment system in Russia to get a SWIFT Workers Remittances certificate in 2009 for live services in the new SWIFT formats.
Later on we tested the new messaging standards with major global banks such as ICICI, Citibank China Construction Bank, La Caixa, Al Rajhi Bank, and Habib bank.
It should be noted that participants in this project included not only banks with years of experience in remittances but also bank-aggregators whose objective in participation in this project was to expand the use of new formats for information exchange within the frames of their own retail international correspondence network.
The banks that participated in SWIFT Remit indeed made a very important contribution to the development of new standards.
PLUS: Why was China selected as the market for the pilot project? Could you talk in a bit more detail about how CONTACT co-operates with ICBC using SWIFT Remit?
E. Gafarova: If you look at the regions where we offer services you will notice that a lion's share of remittances completed in Asia are conducted in China. Then again if we look at the information published by the Bank of Russia about the amount of remittances from Russia outside the CIS and back, China is once again in the lead here.
We realized that investing in the development of this project shall be supported by the most customer-demanded destinations to maximize our traffic.
ICBC, the bank that is our counterparty in our pilot project in China, is a major player in the Asian corporate services market.
We have been working with them for many years, and migration to direct messaging via SWIFT Remit in 2015 will bring our partnership to a new level.
We have created a universal information exchange system that allows us to send remittances from Russia and a number of other CIS countries directly to China via SWIFT Remit and at the same time support the existing model of settlements through the correspondent accounts in the Trade and Industry Bank of China (the Russian subsidiary of ICBC) in SWIFT FIN formats.
At the first stage of our co-operation, CONTACT's clients got access to the first payment service in Russia to offer account remittances into the bank accounts of individuals and legal entities at ICBC. In March 2015, CONTACT and ICBC plan to expand the SWIFT Workers Remittances service by including other ICBC products into it, such as cash payment of remittances in more than 700 ICBC branches across China, as well as remittances into bank accounts of recipients opened in banks –members of the Chinese clearing system CFEPS.
Remittances to China will take less time and will become easier and more affordable. We are confident that our clients in Russia and the CIS will appreciate the new services from ICBC. Speaking about our development in Banking Corp, the Postal Savings Bank of China, Guangdong Development Bank, Huaxia Bank, Industrial Bank. In addition, in late 2014, CONTACT became credits for China Union Pay plastic cards, and we see the growing popularity of this.
PLUS: How fast and smooth has the integration process been with CONTACT partners and specifically with ICBC using SWIFT Remit?
E. Gafarova: As far as launching the project outside the CIS is concerned, usually boarding of one partner takes between one and two years. You have to go through the whole due diligence process, to pass Knowing your customer procedure, then there are a number of conditions to be agreed – business, operation, information exchange... You have to take into account that every new country you go into has its own information exchange standards, its own clearing and reporting models, and every time this turns into a test for the flexibility of CONTACT system.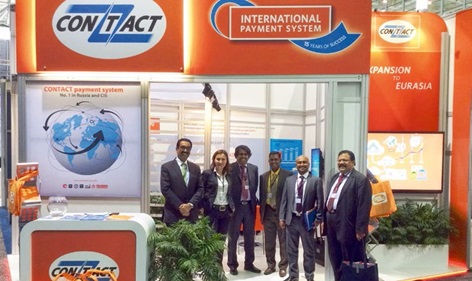 At the moment, the SWIFT Remit working group has more than 100 participants with 25 of them having real remittance traffic and partnership within the project. It is quite a lot, actually: integration with SWIFT Remit means that in addition to having qualified IT staff, the bank has to harmonize its gateways with in-house systems, run multiple tests with other participants in the project, and obtain a SWIFT certificate for live services before the new formats can be used.
It is important to note here that as part of the SWIFT Remit project, it was not just information exchange formats and databases that got standardized. A standardized agreement was drafted for all participating banks allowing them to cut the SWIFT Remit is SWIFT's mobile-enabled global platform for the exchange of remittances. This all-in solution enables banks to offer their customers a unique channel for any type of cross-border person-to-person payment - with a total price and time-delivery guarantee, while alsotime spent on integration correspondence incl, queries on various operation details relating to send and pay modalities of remittances.
Finally, standard testing procedures were developed, including procedures for connectivity tests, positive and negative testing scenarios for various types of messages, and their headers generation.. All these new standards make integration with new partners much easier.
We started testing with ICBC Beijing on Aug 20, 2014. As a result, we ended up with a hybrid data exchange model, in which both SWIFT Fin and SWIFT Remit messages are ensuring cost-efficiency, rapid brand-independence for the bank. This product is designed for financial institutions that are active in the cross-border person-to-person payments business and are looking for a solution that provides a standardised, off-the-shelf operational and technical framework to connect new counterparties. It does also allow financial institutions to support any payment service or channel need requested by their customers, ranging from a standard payment to account, cheque, cash, card or even real-time payment to a mobile wallet. used. The former are needed to keep the existing model of clearing through the Moscow based subsidiary of the bank, the Trade and Industry Bank of China, and the latter is for exchanging remittance messages directly with Beijing. We also implemented the transmission of money transfer number of each remittance. The first live remittance via the new channel was in the amount of USD 1,000 and was successfully completed during the New Year holidays in 2015.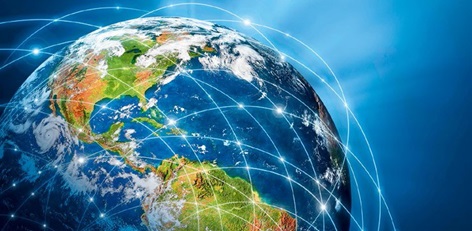 Currently, the SWIFT Remit Work Group has more than 100 participants with 25 of them having real remittance traffic and partners within the project.
PLUS: In conclusion, could you say a few words on CONTACT's immediate plans for further integration with other banks using the SWIFT Remit system?
E. Gafarova: We make plans for further development based primarily on market demand. A key requirement here is the immediate availability of remittances in the pick-up office. People want not just to be able to make a remittance, but to do secure, and they want the money to be immediately available to the recipient as soon as they complete the process at their end.
Originally, when the SWIFT Remit Project was launched, it had three options for SWIFT Remit uses a subset of the ISO 20022 XML payments clearing and settlement messages and has been tailored for the key flows of payment instructions, returns, and reject/status.
SWIFT supports its community to capture new opportunities, and manage business challenges according to each user's needs. This business case may prove insightful for others in meeting their own challenges. We operate for the benefit of our users and focus our efforts on collaborative solutions.
information exchange. The first, the standard one, involved messages being sent once a day. The second one sent messages every hour, and the third one, the so-called instant option, involved a message exchange with the partner every 5 minutes.
As the project evolved, we realized that these levels of services were note enough, so in Aug 2012, we joined the new SWIFT Remit Flash project, a major sub-project under SWIFT Remit. The difference there is in the information transfer protocol. SWIFT Remit Flash uses FileAct Store and Forward. The way it works is like this: if at any given moment there is no connection with the partner's server, the message gets stored in the SWIFT database and is sent as soon as the destination server is back online. SWIFT Remit Flash needs live connections with the destination servers and sends messages in real time. This gave us maximum reliability and minimized the time needed to send a remittance over.
SWIFT Remit Participants are working to develop remittance services not just for traditional routes, such as US–Latin America, Europe–Latin America, Europe–Russia, Europe–Asia, but also for remittances between the Persian Gulf Countries and South and South-East Asia. All these routes are given priority in CONTACT, as they will allow us to strengthen our direct partnership network. Capabilities offered by SWIFT Remit ensure that all the participants of the project important competitive advantage: it is an almost full automation of information exchange between financial organizations, and when it comes to direct partnerships with banks in various regions, it should allow CONTACT to significantly optimize client commissions, reduce the time it takes for remittances to become available to recipients, and improve the quality of information processing.
Journal:
PLUS Journal 4 (215) 2015
Tweet