POS Trends: Verifone's cutting-edge solutions for cashless payments – by card and by smartphone
30.10.2017 12:05:15
783 views
Standalone devices yield to mobile POS terminals, and smartphones replace plastic cards: the market for cashless payments is in motion. The current trends call for innovative terminals and services. How can you meet customer expectations and be at the forefront of this transformation?
The market for cashless payment is growing and changing. More and more people leave their bank cards in the wallets and draw their smartphones at the checkout – paying either via NFC, or using QR codes and barcodes. The terminals also change, from standalone devices to mobile POS terminals. These developments make paying more convenient for customers – and together with customers' higher service demand, they pose new challenges for merchants. With Verifone's innovative terminals and services, merchants are deploying the latest technology.
Market trends transform payment
According to a report from market research company Technavio, the global market for POS terminals will grow steadily at a compound annual growth rate of about nine percent until 2020. As numbers from the Bank for International Settlements show, the number of POS terminals in Russia already has virtually exploded: It went up from 355,000 devices at the end of 2009 to 1.5 million devices at the end of 2015. And the Nilson Report shows Russian bank Sberbank handled 7.5 billion transactions in 2016, thus becoming Europe's largest merchant acquirer. Another number? According to the Central Bank of the Russian Federation, Russian banks have issued almost 258 million payment cards in the first half of 2017 – 10 million more than in the same period the previous year. Whether consumers are in restaurants, shopping malls or football stadiums for the FIFA World Cup 2018, they increasingly pay without cash.
And as wireless technology advances, mobile POS terminals become ever more widespread. They allow customers to pay comfortably at their place – for example, while having dessert at the restaurant table. Credence research projects the global market for mobile terminals will grow to 43.3 billion USD by 2022.
More and more consumers use their smartphones to pay via PayPal, Apple Pay, Google Wallet, Samsung Pay or Alipay. Compared to the preceding year, mobile payment usage has grown from 63 percent to 68 percent in Europe. Especially the so-called millennials born between 1980 and 1999 use new payment technologies. 92 percent of them believe mobile payment will be part of the everyday life by 2020, as German LebensmittelZeitung cites.
Solutions at the heart of innovation
Verifone addresses the evolving merchant-to-consumer experience with new globally-scalable solutions and capability partnerships across systems andservices solutions.
Headquartered in the Silicon Valley, USA, Verifone is at the heart of innovation. In close cooperation with major players such as Apple, IBM and Google, Verifone is developing innovative solutions meeting future consumer needs.
The Verifone team in Russia builds a bridge between Russia and the Silicon Valley by introducing Verifone's newest and future-oriented terminals and services to the Russian market. For many years Verifone has been a trusted and valued partner in payment here in Russia.
Expanding Alipay acceptance
Mobile payment has been boosted by the arrival of NFC-based mobile payment services such as Samsung Pay and Apple Pay, which were introduced to the Russian Market in late 2016. Alipay is still less known – even though the Chinese platform has been the world's largest mobile payment platform for years. Alipay is a must-have app for many Chinese internet users. Data from Analysys International Enfodesk shows that Alipay holds a strong position in its home market accounting for about 54 percent of mobile payment transactions in China in the fourth quarter of 2016.
Teaming up with Alipay's parent company Ant Financial Services Group, Verifone brought the platform to North America and Europe. In April this year, Alipay arrived in Russia – starting with a limited number of souvenir shops in Moscow and St Petersburg. Since then, the world's largest online and mobile wallet has already established further partnerships, for example, with Moscow's Department of Public Transportation and VTB, one of Russia's largest banks. By broadening the acceptance of Alipay, Verifone is creating a future that takes the cashless payment experience for Chinese consumers in Russia and other countries to the next level.
New customer experience with mobile POS solutions
While consumers become increasingly mobile regarding payment transactions, merchants should improve their mobility as well. Small- and medium-sized businesses can benefit from portable checkout solutions such as Verifone's e-Series which turn iPhones, iPads and Android devices into roaming cash registers. Verifone e-Series processes transactions fast and secure with end-to-end-encryption while accepting all major payment types. With connected management tools and dashboards, merchants get real-time insight on all mobile payment devices.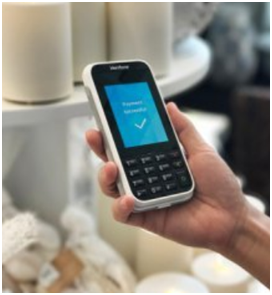 More flexibility with mobile POS solutions
For retailers who want to have an integrated payment device and still be flexible, Verifone offers Carbon, a combination of countertop and mobile POS solutions. The device is designed with an ergonomic handle for perfect balance and can be detached and reattached when needed. Equipped with two high-resolution screens – one facing to the customer, one to the merchant – Verifone Carbon meets the needs of both parties. While retailers can run register and business apps, the device displays special offers to the buyers.
All moving to services
Besides innovative hardware and software, the future of POS terminals is strongly moving to service. The point of sale is more and more becoming the point of engagement which is calling for services solutions as part of the overall offer alongside systems solutions. Verifone's vision is to securely connect the devices within its payment ecosystem to cloud-based services whenever and wherever possible. The offer ranges from Device, Commerce, Omni-Commerce as well as Payment and Security Services. The latter plays an important role in every device and service and is ensured by Verifone through maximum protection.
Verifone's next-generation devices will allow to connect to Verifone's Merchant Marketplace where merchants and acquirers can easily customize their point of sale by downloading third-party or proprietary apps. With enhanced POS functionality, they can improve business operations, like inventory and reporting, or personalize the shopping experience with product recommendations.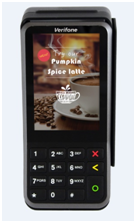 From point of sale to point of engagement
Verifone's Media Management system transforms terminals into new, innovative advertising platforms. While customers are waiting at the checkout at the so-called down time, merchants can draw their attention to targeted commercial messages in the form of advertisements or videos on terminal displays. Thereby, down time turns into prime time.
Within its Payment and Security Services, Verifone offers tools such as beacons to seamlessly identify consumers at multiple touch-points throughout the store like browser cookies for the real world. They can be integrated into the existing in-store technology and enable personalized offers and rewards as well as smoother mobile payments and offer redemption.
For Verifone, the innovation engine within these services solutions is Commerce Services. Verifone helps merchants grow their market and transform the way they deliver their services by providing commerce enablement as a platform.
Verifone's Commerce Platform simplifies the process of developing new functionality for terminals. It offers an open architecture environment and developer portal allowing third-party developers to easily build apps and deploy them via an App Marketplace. Thereby, merchants and estate owners can browse, purchase and deploy a variety of apps to their terminals.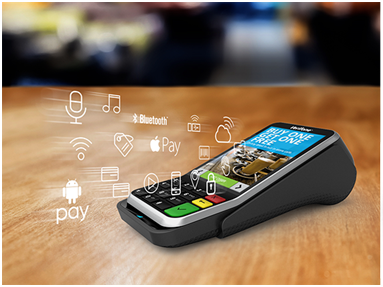 With value-added services to new levels of the POS
Ready for the Future of cashless payment
The market for cashless payments is moving. Commerce, consumers and transactions are changing. Verifone provides merchants with innovative devices that are ready for this new reality. With our value-added services, Verifone can take the POS to incredible new levels and prepare the Russian market for the future of cashless payment.
Journal:
PLUS Journal 8 (243) 2017
Tweet